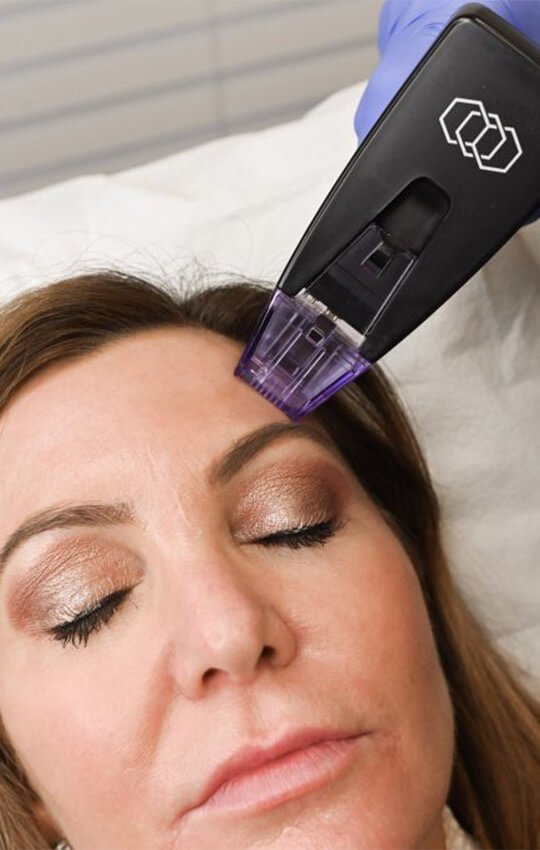 Minimally Invasive Fractional Skin Remodeling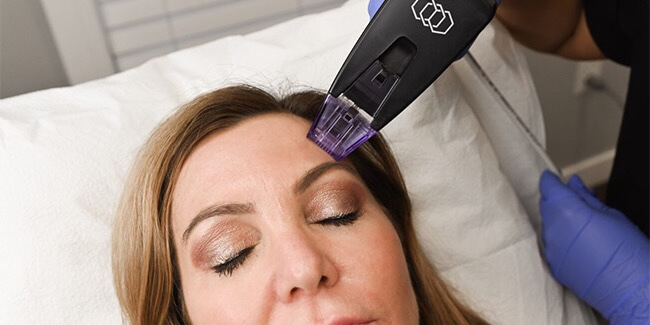 If problematic skin is a part of your daily life, then maybe it's time for a little "remodeling." The fractional skin remodeling power of Morpheus8 has certainly been making waves in the aesthetics industry due to its effortless ability to produce beautiful results for a myriad of skin concerns. We're proud to offer this revolutionary microneedling device at Beauti Pharm in Grand Blanc.
What is Morpheus8 and how does it work?
Collagen and elastin are essentially the building blocks of healthy, youthful-looking skin. But time, lifestyle, environmental exposure, and genetics can greatly impact the abundance and quality of these proteins. That eventually leads to wrinkles, volume loss, and sagging. That's where Morphheus8 comes in.
Morpheus8 is a minimally invasive microneedling device that utilizes radiofrequency energy to contour the skin of the face as well as the body by safely reaching into both the skin and fatty tissue. Morpheus8 then tightens and revitalizes the skin through a process called 'fractional resurfacing,' which triggers the body to naturally produce more collagen and elastin.
It's the first and only FDA-cleared technology that provides deep 8mm subdermal adipose tissue remodeling. That means Morpheus8's fractional treatment penetrates the deeper layers of the skin and fat to jumpstart your skin's natural collagen and elastin production. That translates into a smoother, more youthful appearance for you. 
Am I a candidate for Morpheus8?
Morpheus8's innovative technology can be used safely on all skin types in generally healthy adults. The unique properties of the device even allow for darker skin tones to be treated with little risk of post-inflammatory hyperpigmentation, which can occur with other skin resurfacing techniques. As far as treatable skin conditions, people with the following have experienced improvement with Morpheus8:
Deep lines and wrinkles
Uneven skin tone and texture
Acne/injury scarring
Sun damage
Mild sagging/jowling
Enlarged pores
Stretch marks
Which areas can be treated with Morpheus8?
Wrinkles, sagging, and volume loss can show up on almost any area of the body. That's why Morpheus8 was designed with versatility in mind. It can be used to treat virtually any area of the face and body that might benefit from wrinkle and/or scar reduction, skin tightening, and refined contouring. The most common areas Morpheus8 treatments are administered include:
Face
Neck
Abdomen
Knees
Thighs
Upper arms
Chest
What can I expect with Morpheus8 treatments?
A topical numbing cream is applied prior to treatment to ensure you're comfortable during your Morpheus8 session. A small handheld applicator is then used to gently go over the area where improvement desired. The tip of the applicator contains a series of tiny needles that deliver radiofrequency energy waves to the deeper layers of skin. The movement of the Morpheus8 applicator resembles a stamping motion rather than sliding it across your skin. The whole treatment generally takes about an hour, depending on the size of the area. Once complete, you can resume your daily activities without any required downtime.
How many Morpheus8 treatments will I need for best results?
One to three treatments are the benchmark for most patients, depending on individual aesthetic goals. Morpheus8 generally produces long-lasting results, but additional treatments may be recommended about every 18 months to two years to maintain them.
Are there any side effects from Morpheus8 treatments?
You can expect the skin of the treatment area to be red for a couple of days after your procedure. This resembles a light sunburn in most cases. There may also be some mild swelling that occurs. These side effects are typically mild and resolve quite quickly on their own.
When will I see results from Morpheus8 treatments?
You'll start to notice visible improvement in a few days following treatment. Most noticeable results typically appear around three to four weeks, but skin improvements tend to continue for up to three months afterwards as collagen and elastin are kicked into high gear. Most people enjoy rejuvenating effects of Morpheus8 that last a year or more.
Where can I get Morpheus8 treatments in Grand Blanc?
Click here to book your appointment online or give us a call at (810) 771-8777. We'll conduct a thorough skin evaluation and go over all the details of the treatment to determine if Morpheus8 is right for you.