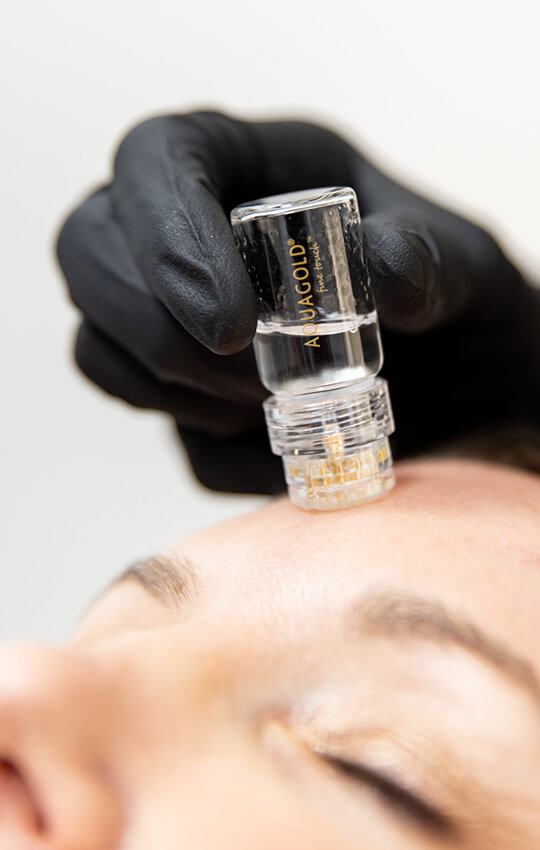 AquaGold® Microchanneling
Improve Skin Texture, Shrink Pores, & Smooth Wrinkles With AquaGold® Microchanneling.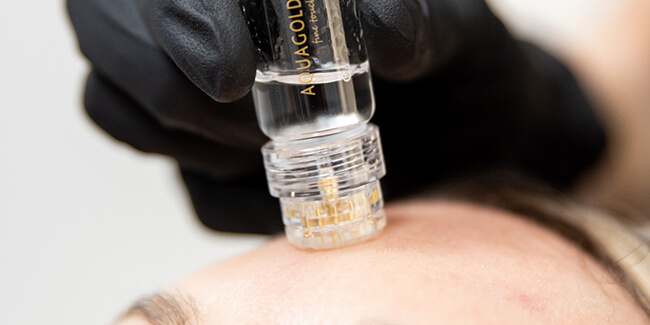 Who doesn't want smoother, more radiant skin with smaller pores? AquaGold® fine touch™ microchanneling is a first-of-its-kind microinjector expertly designed to produce amazing results for a myriad of skin concerns. This patented, gold-plated microchanneling system painlessly delivers custom micro-infused solutions into the skin, which work at the superficial dermal level to help your complexion truly glow. There are also some long-term benefits, such as stimulation of natural collagen production with continued treatments.
How does AquaGold microchanneling work?
The AquaGold applicator contains 20 microchannels made of 24k gold which stamp a special elixir of strategically blended, skin-enhancing ingredients into the superficial layer of your skin. These microchannels are thinner than a human hair, so treatment is virtually painless. The system deliverers an impressive 2,400 microinjections per minute, and the infusion blend is customized to meet your skin's needs. Plus, the high-quality gold on the applicator is hypoallergenic, which means less irritation.
What does the AquaGold microchanneling elixir contain?
AquaGold microchanneling includes the following infusion ingredients to effortlessly produce remarkable results:
Hyaluronic Acid – a soft substance that absorbs water and brings full hydration to the treated area, giving it improved firmness, elasticity, and smoothness.
Botox® – A neuromodulator that helps control pore size and refine skin surface when applied to the dermis instead of the muscle.
How is Botox used to shrink pores with the AquaGold microchanneling system?
Botox is mostly known for its wrinkle-reducing capabilities by being injected into the muscles in which contractions cause wrinkles. But when it's infused into the dermis instead of the muscle, it actually helps to control pore size. It should be noted that infusing Botox into the skin does not affect muscle movement and will not replace the need for regular Botox injections to minimize lines and wrinkles.
Where can AquaGold microchanneling treatment be administered?
The AquaGold® fine touch microchanneling device is most often used on the face, neck, chest and hands, though it can be used in many other places on the body. It's also an excellent treatment to address the signs of aging on the décolletage, where wrinkles and other skin imperfections can be more difficult to treat.
What's the difference between microneedling and AquaGold microchanneling?
AquaGold microchanneling is intended to inject low doses of drugs into the skin, such as Botox and hyaluronic acid. This is different from microneedling, in which the intended use is to stimulate the skin to produce collagen through micro injuries. The AquaGold device is not a microneedling device.
Another key difference lies in how each device administers treatment. Microneedling typically involves a roller or handheld wand which glides across the skin. The AquaGold microchanneling device, on the other hand, is administered using a gentle "stamping" motion. While both treatments can produce noticeable skin improvement, AquaGold microchanneling offers a bit more accelerated results.
Is there any downtime needed with AquaGold microchanneling?
That's one of the great things about this treatment – no downtime needed! Unlike other microchanneling devices, the AquaGold fine touch is uniquely designed to not create micro tears in the skin or cause bleeding. Due to the fineness of the microchannels, treatment is virtually painless. We do recommend, however, that you avoid direct sun exposure, wearing makeup, and washing your face for the rest of the day following your procedure.
What results can I expect with AquaGold microchanneling?
Though results vary from person to person based on a number of individual skin factors, most people will be able to notice improvement in their skin within 3-7 days after treatment. These results typically last approximately 3-4 months. Additonal treatments can be done as often as every 1-3 months to maintain results. Also, doing several treatments throughout the year will continue to improve long-term skin quality by boosting gradual collagen production.
How can I get AquaGold microchanneling in Grand Blanc?
We'll be happy to guide you through all the amazing benefits of AquaGold microchanneling at Beauti Pharm. All you have to do to start that journey is give us a call at (810) 771-8777 to set up your private consultation. We'll take it from there and go over everything to make sure it's your best bet for glowing skin.